Companies that have a presence in different countries commonly carry out multi-currency transactions. But what is it? Multicurrency is a term used to describe the financial operations carried out in a currency other than the one generally used in the company.
It is convenient to have tools like Odoo, since the way it works is by associating a main currency and a list of currencies with their exchange rate. It is also possible to define rates for each currency and thus use them in orders and invoices. 
With Odoo you can coordinate operations such as:
Send sales invoices

Send Quotes

Place purchase orders


Receive invoices


Issue payments

Set up bank accounts

Run reports
In addition, you will be able to consult the profit margin in any currency that you need, as well as have the information of each accounting process, the exchange rate and the date of the operation in real time and in a simple way. You will also be able to consult the analysis of the financial statement, since with Odoo it is possible to know the various exchange rates handled for a certain organization, so issuing an exhaustive financial statement becomes easy.

Features of multicurrency in Odoo

When we work in a multicurrency environment, different items are enabled in the accounting system and for each of them the operation may vary, here we tell you a little about how multicurrency works in Odoo:
When changing to multicurrency, an option is enabled where it is possible to configure the currency with which you are going to work and it is automatically applied throughout the document.

As a general rule, the creation or import of foreign exchange statements is carried out in the currency of the journal in which the import is being made.

Complementary fields are activated where you can specify information about the amount and the currency in which it was paid.
How to activate multicurrency in Odoo?

In the accounting module, go toSettings ‣ Settings and check Allow multi-currency, then click Apply.
 
Configuración ‣ Ajustes y marque Permitir multidivisa, luego haga clic en Aplicar.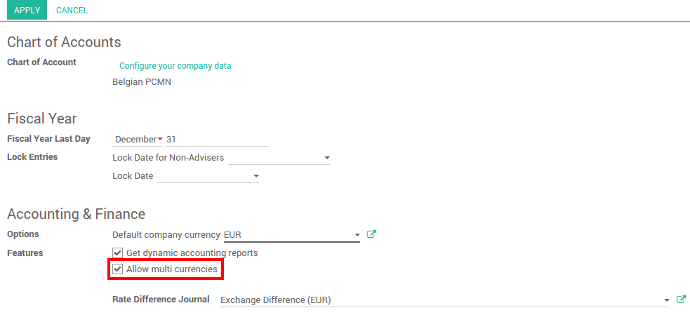 Journal for exchange differences

The exchange rate difference journal records the differences between the payment record and the expected amount, as long as a full reconciliation is run. For example, if a payment is paid a month after the invoice is issued, it is likely that the exchange rate has had a variation. The fluctuation implies some loss or profit, which is recorded by Odoo.
You can change it in the settings:
Without a doubt, having the multi-currency function is decisive for all companies that have suppliers or clients from other countries.
If your company is interested in having a multicurrency system with Odoo, the best time is yet to come, since version 16 comes with improvements in explicit exchange differences, as well as partial multicurrency reconciliations, thanks to the fact that We have worked hand in hand with Odoo to make this possible.

Do you need to bill, buy and receive payments in currencies other than your own, but don't know how? Discover how to use multicurrency in Odoo