We build awesome things
We apply the best methodologies to keep adding value to Latin American companies.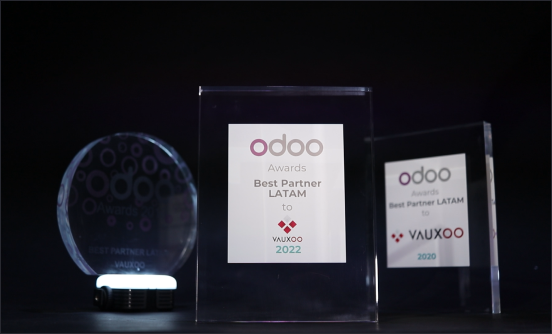 History with Performance
We adapt Odoo to each client, ensuring that every need is covered, positioning ourselves as a Latin American reference with global-level capabilities.
OUR JOURNEY

Eleven years of experience and certifications in all versions of Odoo have allowed us to remain Gold Partners and have won four awards as the Best Partner in Latin America.



2023:

Odoo LATAM's Best Partner

2022:

Odoo LATAM's Best Partner

2021:

Nominated for Odoo LATAM's Best Partner

2020:

Odoo LATAM's Best Partner​
2019:

Odoo LATAM's Best Partner​
2018:

Heroes of Our Community
2013-2019:

Nominated for 7 consecutive years as Odoo LATAM's Best Partner
2012:
Top Contributor and Best Certified Trainer Partner
An extraordinary team to streamline your processes
With the help of our team and the Odoo ERP system, we provide you with various alternatives to face the challenges of your company, regardless of the sector you belong to.
Would you like to know more?


Start your adventure with Vauxoo​
Your journey will consist of 4 stages; first, we'll assess your needs, then implement your Odoo instance, go live, and finally provide support services. All managed by our team of experts.

Start your journey by scheduling a meeting.